Music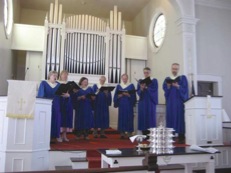 Music is a central part of our common life. Each Sunday we raise a "joyful noise to the Lord." We alternate between the Pilgrim and New Century Hymnals. Our adult choir enlivens and enriches our worship with anthems and introits, drawing on classic and contemporary compositions, while our new children's choir blesses us with its enthusiasm and joy.


Our church is also home to
Music at the Meetinghouse
, a concert series devoted to sharing superlative live music with our friends and neighbors in the Upper Valley. Regular participants performers are Bel Canto and Classicopia. While the series has focused on choral and classical music, it is broadening its offerings to include other genres including folk and Americana.


Fall 2013 Congregational Survey of Music Ministry - Results
Choir